Treatment for Depression, Bipolar & Other Mood Disorders
Evidence-Based Treatment at Pathlight
Mood disorders, including major depression and bipolar disorder, are a leading cause of hospitalization of adults age 18-44. When these illnesses are not treated, they often get worse — with a risk of serious complications, physical harm, or death.
The good news is that help is available and that a number of therapies are effective for mood disorders. With a combination of psychotherapy, medication and complementary supports, you can recover from a mood disorder — no matter how complex your illness is or how challenging your life has become.
At Pathlight, our specially-trained professionals can help you find balance and healing from whatever issues you are dealing with. In treatment, we support your work in recovery as you learn about your moods, connect with your values, and build, maintain, and improve relationships in your life.
Get help for a mood disorder
You may be familiar with what depression is, and you may even be familiar with bipolar disorder. But many people are less familiar with the term "mood disorder." A mood disorder is a psychological condition characterized by serious changes in one's moods — typically persistently low (depressed) or persistently high (manic). These moods are above and beyond what most would consider to be typical feelings of sadness or happiness.
The most common mood disorders include:
Major depressive disorder

— extremely low moods

Bipolar disorder

— extremely high (manic, euphoric or hyperactive) and low moods

Persistent depressive disorder

— depression that lasts more than three years

Cyclothymia

— a less severe form of bipolar disorder that may include hypomania and episodes of moderate depression

Seasonal affective disorder

— depression that occurs only during the winter, when there is less sunlight
If you are seeking a residential or partial hospitalization program for a mood disorder, life has probably become overwhelming. We want you to know that you are not alone in this!
Our doctors and therapists will guide you through recovery, teach you helpful tools, and offer you new ways to manage your thoughts, emotions, behavioral, and physical reactions to life's challenges.
Treatment for depression & bipolar disorders
As you compare your options of where to seek treatment for a mood disorder, we encourage you to consider a number of factors. One of the most important factors that you should consider is each treatment team's professional experience and expertise. This list below shows the depth and breadth of the training and backgrounds of the clinical staff that work here at Insight:
Our doctors and therapists are highly educated and credentialed. Insight Behavioral Health Centers employs many MDs and PhDs/PsyDs with extensive training in mood disorders.

The staff at Insight value and pursue ongoing education and training on the latest, most effective treatments that help patients overcome mood disorders, such as Dialectical Behavior Therapy (DBT), Cognitive Behavior Therapy (CBT), Acceptance and Commitment Therapy (ACT), Radically Open DBT (RO-DBT), and Behavioral Activation.

Our clinicians are trained in multi-cultural competency and are experienced in working with patients of all genders and from diverse backgrounds.

We are familiar with treating a range of severity, a range of diagnoses, and a range of different life experiences.

Our experts know how to support someone through common feelings related to mood disorders such as pervasive loneliness, overwhelm, loss, anger, hopelessness, and helplessness.
Should you choose to seek treatment at Insight, we will tailor your mood disorder treatment based on your needs and priorities. We do this through the use of individual and group therapy. During your one-on-one meetings with your therapist you will be able to map out your treatment goals and, in groups, you can explore how to get there. We use the power of knowledge to help you break the maladaptive patterns in your life, teach you how to manage your moods, and help you move toward a more fulfilling life.
Therapy for mood disorders
Specific therapies are known to help people with mood disorders, and we are proud that all of our clinicians either specialize in — or have extensive training in — the following mood disorder treatments:
Dialectical Behavior Therapy (DBT)

Radically Open Dialectical Behavior Therapy (RO-DBT)

Acceptance and Commitment Therapy (ACT)

Cognitive Behavioral Therapy (CBT) including Behavioral Activation & Exposure and Response Prevention (ERP)
These therapies have been found to be the most effective, evidence-based treatments for mood disorders.
In addition, our on-site psychiatrists provide regular medication management for all of the patients in our Residential and Partial Hospitalization Programs (PHP).
During your time at Insight, a primary goal will be to help you learn how to regulate your emotions safely and effectively. To support our patients in these explorations, our therapists will work with you to address the wellness of your mind, body and spirit with experiential therapies (movement, art, and yoga).
Each week, your individual therapist will work closely with you to make sure that you are making progress in treatment. We customize treatment to each individual and do our best to ensure that each patient receives specialized therapy in their work with us.
Family involvement in mood disorders treatment
Mood disorders, including bipolar disorder and depression, not only affect the individuals seeking treatment, they often affect families, too. Family support is an important component in mood disorder therapy as it can assist in helping people heal.
We never want you to feel alone here at Insight, so we offer many ways family members can be involved in each patient's care. We encourage family members to support their loved one's recovery by participating in some of our family-oriented therapies and programs, including:
Family Therapy

Family Days

Multi-family education groups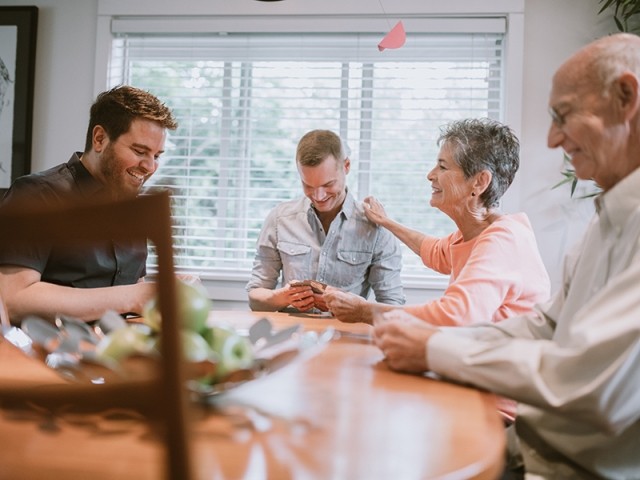 Options for mood disorder treatment
Are you wondering if Insight is right for you or your loved one? Patients are eligible to seek treatment at Insight when they need more intensive support than what is available in an individual, outpatient setting.
You are able to move up and down through the levels of care based on your needs during treatment, which makes it more likely that you can receive start to finish care with us rather than moving between programs when your needs change. This vertically-integrated treatment design is one of the hallmarks of the excellent care we provide for our patients.
During intake, our compassionate Clinical Assessment team will work with you to determine the ideal level of care for you.
Following treatment, we will continue to offer ongoing support. Alumni events help to keep you focused on mood recovery and connected to the larger community of people pursuing similar goals.
Several levels of care to meet your needs
Residential Care
The highest level of care; you live on site and attend therapy groups while being supported through tasks to improve functioning
Partial Hospitalization
Attend Pathlight groups 7 days per week
Intensive Outpatient
Treatment takes place 3 to 5 days per week
Child and Adolescent Programming
Residential, PHP, and IOP for ages 10-17
Finding balance in mood disorder treatment
One of the challenges of mood disorder treatment is that every patient has a different story and will respond differently to medications and talk therapy. Over the first month of treatment, you will become familiar with our evidence-based therapies and can start using your new skills on a regular basis.
You may find it promising to know that most of our patients experience symptom reduction within the first 11 days.
As far as treatment effectiveness, we've queried patients over the years and found that our patients experience statistically significant decreases in these areas following treatment:
Depression

Anxiety

Dysfunctional attitudes

OCD

Trauma
Our patients also experience statistically significant increases in the areas of:
Accomplishment

Positive emotions

Relationship quality

Meaning
We invite you to review our past patients' experiences to see what they say about treatment at Insight:
84 percent of patients who complete our partial hospitalization program report feeling satisfied with their treatment.

89 percent of patients who complete our intensive outpatient program report feeling satisfied with treatment.

86 percent of patients completing PHP and 90 percent of patients completing IOP say that they would refer a friend or family member to our treatment center.
It may be difficult to see the success that lies in your future, but we are trained to help you take the steps — no matter how big or how small — to move towards your goals, even when you are struggling. We will support you, offer our encouragement and celebrate your successes each day in treatment.
Please call us at (877) 317-2643 for a free, confidential consultation with a Master's-level clinician or to learn more about treatment options for mood disorders.