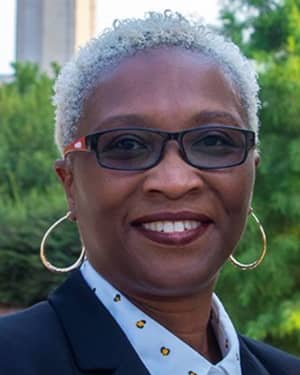 Falesa Ivory-Horton, PhD
Psychologist, University of Nebraska
Dr. Falesa Ivory-Horton currently serves as a psychologist at the University of Nebraska Counseling and Psychological Services Center (CAPS). In this role, she specializes in working with Black, Indigenous, People of Color, and other vulnerable populations on identity, trauma, phase of life, and spirituality.
As the CAPS DEI coordinator, Dr. Ivory-Horton is responsible for creating the strategic plan for the center's initiatives to develop a culturally inclusive environment equipped to meet the needs of a diverse student population. In addition, she leads the Committee on Inclusive Excellence (CIE) that organizes the diversity training for staff, coordinates the diversity training of interns, and provides secondary supervision for the Diversity Concentration on working with students of color. Additionally, Dr. Ivory-Horton serves as a liaison to the Jackie Gaughan Multicultural Center and team lead with the Student Affairs Diversity Council, leading efforts to foster an inclusive and equitable experience for all staff and students. Dr. Ivory-Horton has held therapeutic roles in both private and public spaces, working with diverse populations with serious mental illness, neurodiversity, and individuals with mental and physical disabilities.
Most recently, Dr. Ivory-Horton has been the guest speaker for organizations and conferences, locally and regionally, to bring awareness to diversity, inclusion, mental health, and well-being concerns affecting underrepresented populations and communities. Dr. Ivory-Horton, a Provisionally Licensed Psychologist and Licensed Independent Mental Health Practitioner, received a BA from the University of Michigan-Ann Arbor, MA from Lewis University, and an MA and Doctor of Philosophy in clinical psychology from Fielding Graduate University.