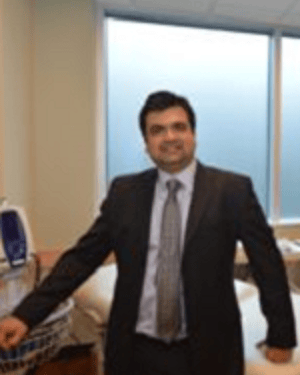 Hani Ahmed, MD
Attending Physician, Fort Worth
Dr. Hani Ahmed is a Family Medicine Clinician, Board Certified by the American Board of Family Medicine since 2008. He comes from a diverse background, and was born and raised in Karachi, Pakistan where he attended medical school. Personable and compassionate, he took part in many school and local organizations to help the needy, as well as the community at large. He headed a mobile blood bank and was the treasurer of the school charity fund. He realized his calling for family medicine after seeing the lack of dedicated primary care doctors while completing his internship. This led him to become a pioneer in his family and move to the United States to pursue a family medicine residency.
Diligent and perseverant, he faced the odds and challenges of acclimating to a new world with a different culture. His dedication won him a residency in Urbana-Champaign, Illinois, which he completed in 2008. Having become attached to the local community, he started working at Christie Clinic in Rantoul, IL and enjoyed two years there building a robust practice. He then moved to Shreveport, Louisiana. Feeling compelled to serve his country at a broader level he joined Barksdale Air Force Base where he was treating active duty military recruits, retirees, and their families. Exposed to a plethora of mental disorders – depression, anxiety, PTSD – he honed his skills as he cared for their medical problems. At the end of his five-year period, he was awarded a shield of appreciation and medal. He continued to serve by joining the Veterans' Affairs, treating veterans with complex medical diagnoses.
Wanting to give his family better opportunities, he then relocated to Dallas in 2016, lured by an intriguing opportunity to work at ERC. Since then Dr. Ahmed, had been actively learning and appreciating the medical intricacies of eat disorders. Being a family physician, he integrates and incorporates the medical aspects of eating disorders with psychiatry. Given his rich background of treating patients in all settings and with all kinds of complexities, he is an ideal candidate for the job and applies his vast knowledge and experience to treat medical complications arising from eating disorders.