Rooted in evidence-based modalities and best practices, our programs at Eating Recovery Center and Pathlight Mood and Anxiety Center (ERC Pathlight) are delivered by a psychiatrist-led multidisciplinary team. Now we want to share what we've learned with you.
In Luminary, our digital magazine, you'll find key insights from leading clinicians and recovery advocates on:
The power of an accurate diagnosis
Why patients outcomes matter and how they inform clinical care
How to create a safe, inclusive practice
Navigating treatment ambivalence with your clients and more
Plus, a bonus 2023 Continuing Education Catalog with free courses designed just for you.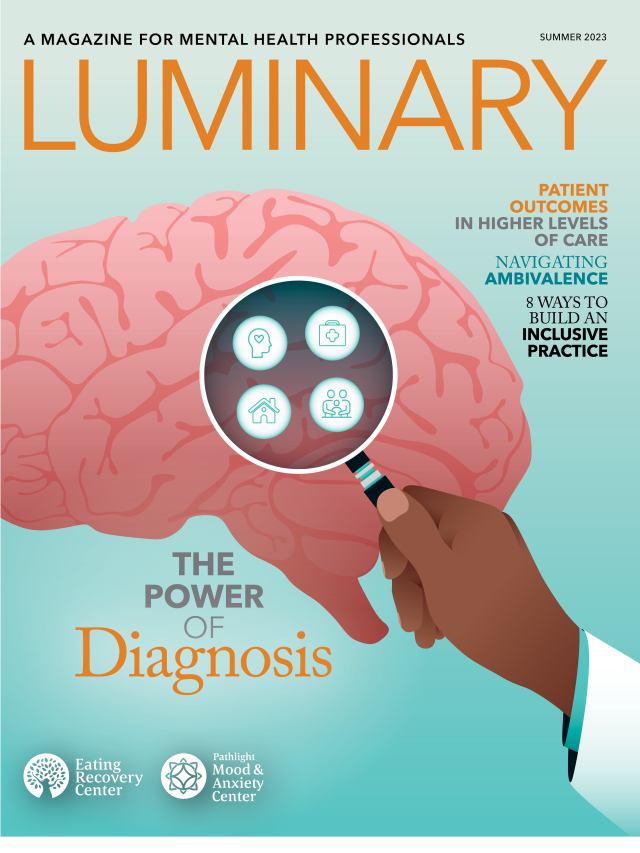 A Message From Anne Marie O'Melia, MS, MD, FAAP, CEDS-S
Chief Medical Officer and Chief Clinical Officer
Eating Recovery Center and Pathlight Mood & Anxiety Center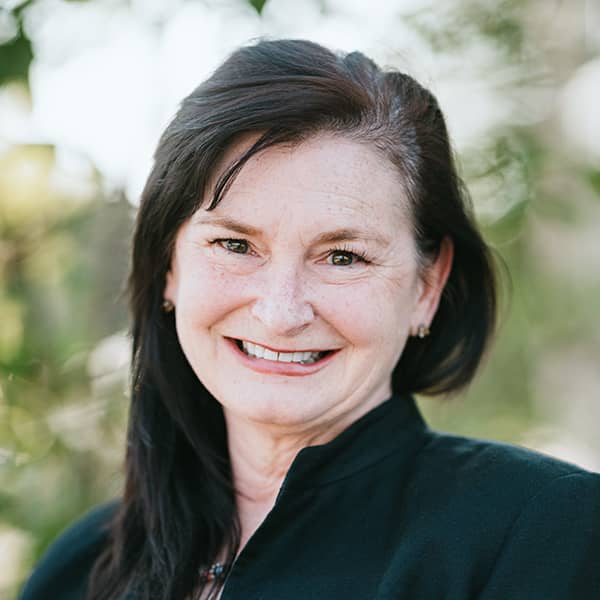 "I joined ERC Pathlight almost nine years ago, and I'm exceptionally proud of all the lives that have been changed by our whole-person approach.
As I envision the future, I see us continuing to explore innovative approaches to care for patients with complex cases. We will continue to consider families and referring providers as an integral part of our treatment teams. We will keep engaging in research to improve outcomes through medical and therapeutic advancements. And we will continue to develop evidence-based training so we can share these innovations with other providers.
The field of behavioral health is changing rapidly, and ERC Pathlight remains committed to advancing the state of science for eating disorders and mood, anxiety and trauma-related disorders in a way that's never been done before. It's both an honor and a privilege."
Anne Marie O'Melia, MS, MD, FAAP, CEDS-S
Patient Outcomes Matter
From the time a patient is admitted to when they "step down" to a lower level of care or discharge, ERC Pathlight uses scientifically accepted assessment tools to measure progress and the overall impact of treatment. While this is a standard best practice for all ERC Pathlight programs, it sets the treatment center apart as a leader in collecting and interpreting data on patient outcomes.
Real People, Real Stories: Anorexia in a Larger Body
From the time Joanna Nolen (she/her/hers), ERC alumnus and Recovery Ambassador Council member was a child, she constantly heard about her weight. As a child in a larger body, her parents worried she would develop diabetes or cancer—diseases that ran in her family—and strongly encouraged her to watch what she ate and to exercise.
"I started exercising a lot, and when my peers started recognizing me because of my weight loss, I started restricting my food, and then I got hooked on laxatives and diet pills," she said. It wasn't until her anxiety, depression and eating disorder behaviors became unmanageable that she went to see her doctor, who referred her to a cognitive behavioral therapist. The therapist recommended that she go to ERC for the treatment of her complex eating disorder and co-occurring conditions.
150+ Free Continuing Education Courses For You
Together we can change the landscape of mental health treatment.
It's more challenging than ever to be a behavioral health clinician. Our continuing education (CE) courses are specifically designed to address the unique demands, complexities and opportunities that mental health professionals encounter today.
By registering, you will:
Earn 200+ CE Credit Hours Toward Your Licensure Requirements
Learn From Industry-Leading Experts From the Comfort and Convenience of Home
Stay Informed of Critical Current Topics To Better Support Your Clients
Topics range from how to help clients find freedom from food to ethics in the virtual space to how to create the most inclusive practice possible.
Highlights From the Magazine
8 Ways to Create a More Inclusive Workplace: A Guide for Providers

By integrating inclusion, diversity and belonging within their workplaces, providers can build safer spaces for patients and families.

Ketamine and Transcranial Magnetic Stimulation: Providing New FDA-Approved Mental Health Treatments

Find out if ketamine and transcranial magnetic stimulation are right for you and explore new FDA-approved mental health treatments.

Student Athlete Mental Health: Behind the Applause

Packed schedules, intense workouts, and external pressures. Learn more about the unique issues facing student athletes and how to support them.

Eating Disorders & Mental Health: The Importance of Patient Outcomes

At the forefront of eating disorder and mental health care, see how we collect and interpret data to measure patient outcomes.

The Power of An Accurate Eating Disorder Diagnosis

See how a thorough assessment and ongoing evaluations lead to a complete and accurate eating disorder diagnosis.

Mental Health Treatment for Kids & Teens: Creating Safe Spaces for Children in Crisis

Learn how to support kids and teens facing mental health issues today, and how to guide families along their loved one's journey.

How Eating Disorder Research is Improving Patient Care

Learn about the latest eating disorder research studies that are influencing patient care, led by the experts at Eating Recovery Center.

Treating Complex Eating Disorders

See how Eating Recovery Center approaches diagnosis and treatment for complex eating disorders and co-occurring conditions.

Can Social Media Have Positive Effects on Mental Health?

Discover the positive effects of social media and get tips for both providers and parents to promote the digital well-being of teens.

Redefining Grief and Loss

See how today's clinicians are redefining grief as they help individuals cope with grief and loss in therapy.
Additional Helpful Resources
Find a Community
Our Say It Brave online community offers a safe and inclusive space for kids and teens to foster connection, access resources and help end mental health stigma. Check out upcoming events featuring recovery advocates leading candid, crucial conversations about mental health.
Support for Families
At our monthly virtual open house, parents and caregivers learn more about mental health treatment for their kids and teens in crisis.
Address Ambivalence Toward Entering Treatment with Your Clients
Share this free resource with your patients and their families, addressing their questions and common hurdles to entering treatment.
Schedule an Assessment
Please contact us to make a referral or schedule a free consultation with a master's-level clinician at 1-877-825-8584.
Hide Last Child Layout Div