Treatment Referral Resources
Thank you for considering Eating Recovery Center | Pathlight Mood & Anxiety Center as a treatment resource for your patient requiring a higher level of care.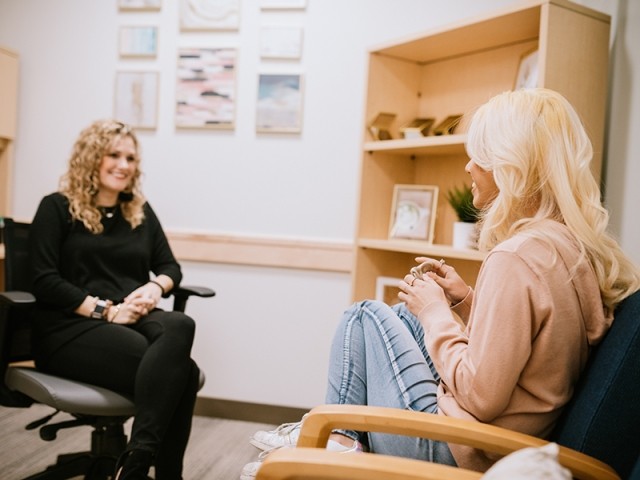 Our admissions process is designed with referring professionals in mind, and involves thorough assessment and information-sharing to ensure a holistic picture of the patient's medical, psychological and social status. Our team involves you throughout the treatment process so you become educated, focused and knowledgeable about how to treat this illness and support the recovery of patients and families struggling with an eating disorder.
You have four ways to make a referral
Contact our master's level Clinical Assessment staff at 1-877-825-8584
Email us at

[email protected]

Fax your patient's information to 

425-974-1530
Our is Clinical Assessment Team is available to answer any of your questions about the referral process, treatment programs and aftercare planning. Additionally, we invite you to see the FAQ section below for more information about our admissions process, insurance contracts and our commitment to engaging referring professionals in the treatment of their patients.
When to refer a patient
If one of your patients present with any of the following symptoms, we encourage you to consider referring them to a higher level of care.
Common Symptoms of Anorexia Nervosa
Weight at/below 85% of ideal for age
Significant/dramatic decrease in normal growth chart curve for weight
Excessive or compulsive exercise
Bradycardia and/or orthostasis
Absence of, delayed onset of or sporadic/light menses
Fatigue, cold-intolerance, dizziness and/or hair thinning/loss
Sudden interest in "healthy" eating, vegetarianism, veganism
Important note: Patients with Anorexia Nervosa will often present with normal labs and vitals.
Common Symptoms of Bulimia Nervosa
Bingeing more than once per week
Purging more than once per week
Purging behaviors can include: self-induced vomiting; laxative, diet pill and/or diuretic abuse; exercise; chewing and spitting of food; insulin misuse
Bradycardia and/orthostasis
Low normal to abnormal labs; can include electrolyte abnormalities
Important note: Patients with Bulimia Nervosa are often of average weight and deny physical symptoms.
Common Symptoms of Binge Eating Disorder (BED)
Characterized by frequent overeating (bingeing)—at least once a week for three months—combined with feeling a loss of control, intense feelings of distress and three or more of the following behaviors:
Eating more rapidly than normal
Eating until feeling uncomfortably full
Eating large amounts of food even when not feeling physically hungry
Eating alone due to feeling embarrassed by how much one is eating
Feeling disgusted with oneself, depressed or guilty after eating and/or between binges
Other Eating Disorders Symptoms
Medically stable to the extent patient does not require medical hospitalization. Requires structure and supervision in order to gain weight or cease eating disorder behaviors
Patient has limited social support
Patient is not improving, despite outpatient therapy
Thank you for considering Eating Recovery Center as a treatment resource for your patient requiring a higher level of eating disorder care.
Collaborating with Eating Disorder Professionals
At Eating Recovery Center we are fully committed to forging collaborative partnerships with our referring professionals, and we recognize the invaluable contribution providers bring to the admission, treatment and discharge process.
Even before your patient admits to Eating Recovery Center, our Clinical Assessment team will work with you during a rigorous pre-admission assessment phase to collect extensive information and insight to help our senior clinical team make an informed treatment recommendation, and establish preferred methods of communication to keep you engaged in the treatment process. Within the first 72 hours of your patient admitting into one of our levels of care, their primary clinician will contact you to provide status updates and discuss your involvement throughout the treatment process.
Referring professionals collaborating with Eating Recovery Center
Referring professionals are invited to participate in staffings with Eating Recovery Center's treatment team and your patient throughout the course of treatment. While these meetings seek to inform you about your patient's recovery progress and offer you an opportunity to share clinical wisdom, they are also designed to orient you to Eating Recovery Center's treatment philosophy, model and interventions. Referring provider involvement allows for a seamless transition to outpatient care following discharge from treatment.
Designated ERC staff begin the creation of an Aftercare Plan at the time of admission, communicate with referring providers regarding the date of discharge, make appointments and ensure comprehensive understanding of the treatment the patient has received and the proposed post-discharge plan. Patients are referred back to their existing outpatient team, or provided referrals if they do not enter treatment with an existing team.
When referrals are needed for discharging patients, ERC staff utilize the National Referral Network Directory, which is extensive database of trusted providers with familiarity of Eating Recovery Center's eating disorders treatment approach. Visit the National Referral Network to learn more about creating a member profile.
Admissions Process for Eating Disorder Professionals
Thank you for considering Eating Recovery Center as a treatment resource for your patient requiring a higher level of care. We are committed to engaging referring professionals in the treatment of their patients, and your involvement begins during the admissions process in the form of thorough assessments. These assessments help the treatment team create a holistic understanding of each patients histories, needs and challenges, and aids in the development of individualized treatment plans.
Please contact our Clinical Assessment department should you have further questions or if you would like to discuss the appropriateness of our programs for your patient. The Clinical Assessment team can be reached by phone 877-825-8584, via email by completing the contact form below or emailing [email protected], or by clicking the live chat icon at the top of this page.
Frequently Asked Questions
Hide Last Child Layout Div