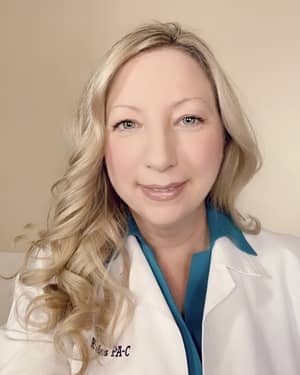 Andrea Rhodes, OTR, MPA, PA-C
Andrea Rhodes earned her Master of Physician Assistant degree from Loma Linda University in 2014. She also graduated Magna Cum Laude with her Bachelor of Science degree in Occupational Therapy from Texas Woman's University in 2001.
She is certified by the National Commission on Certification of Physician Assistants (NCCPA). Prior to moving to the San Antonio area and working for ERC Pathlight San Antonio, Andrea was a didactic year Instructor for the Physician Assistant Program at LSU Health in Shreveport, Louisiana. She taught many courses including lectures in Orthopedics, Dermatology, Neurology, and Psychiatry. Her clinical experience as a Physician Assistant includes Orthopedic Hand/Upper Extremity Surgery, Aesthetics/Dermatology, Physiatry, and Psychiatry.
Prior to becoming a Physician Assistant, Andrea was working as an Occupational Therapist (OTR) treating patients with various orthopedic, neuro and mood and anxiety disorders. As an Occupational Therapist she has worked in a variety of settings: outpatient hand therapy, outpatient neuro rehab, in-patient rehab, and acute care. She is also certified by the National Board for Certification in Occupational Therapy (NBCOT).  
Andrea is passionate about integrating her unique set of skills, resources, and knowledge to connect with others and improve the quality of their lives.