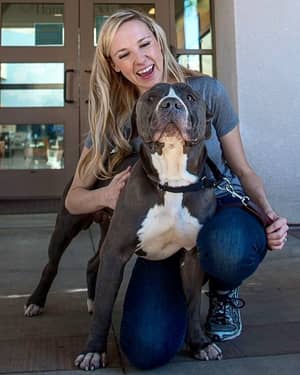 Shannon Kopp, MFA
She/Her/Hers
Shannon Kopp, an Eating Disorder Recovery Center National Recovery Advocate, is the best-selling author of Pound for Pound: A Story of One Woman's Recovery and the Shelter Dogs Who Loved Her Back to Life (HarperCollins).
After battling depression and a debilitating eating disorder for many years, Shannon found hope in the unlikeliest of places: at her local animal shelter. Shannon's poignant memoir is a story of hope, resilience and the spiritual healing animals bring to our lives. She vividly reminds us that animals are more than just friends and companions—they can teach us how to savor the present moment and reclaim our joy.
Shannon holds an MFA in Nonfiction Writing from Pacific University, and has written for CNN, Maria Shriver, The Huffington Post, Good Housekeeping, BarkPost and Salon. Her story has been featured in PEOPLE, NPR, CNN Turning Points with Dr. Sanjay Gupta, Women's Health, and Psychology Today. Shannon is the founder of SoulPaws Recovery Project, a 501(C)(3) nonprofit offering free Animal-Assisted Therapy to people impacted by eating disorders. She lives in Connecticut with her husband, son, and wildly adorable rescue dog, Bella.
Follow Shannon Kopp on Instagram.