Cohesion: The Key to Effective Group Therapy
ERC Pathlight experts' best practices for fostering patient connections, whether in person or virtually
Research definitively shows that cohesion—the unity or solidarity of a group—leads to better outcomes in group therapy settings. "Group cohesion is based on three factors: the individual's relationship with their therapist, their relationship with other members and their relationship with the group as a whole," explains Deborah Michel, PhD, CEDS-S, FAED (she/her/hers), National Clinical Director at Eating Recovery and Pathlight At Home. "These personal attachments foster empathy, trust and accountability."
However, shaping that therapeutic milieu is both a skill and an art. "Group therapy is hard, and experience managing group dynamics varies widely among clinicians," says Anne Marie O'Melia, MS, MD, FAAP (she/her/hers), Chief Medical Officer and Chief Clinical Officer at ERC Pathlight. "Knowing that, we ensure that our clinicians have extensive resources, education and supervision, provided by nationally and internationally known experts." Those resources are available to support both in-person intensive outpatient program (IOP) and Eating Recovery and Pathlight At Home, our virtual IOP, which ERC Pathlight has offered since 2016.
Connecting Virtually
Peer support and connection, which are key to cohesion, are as effective in a virtual setting as they are in person, according to ERC Pathlight's expert clinicians. "We know that best practices involve continuity, both in the group cohort and the patient's care team," says Dr. O'Melia. "An important component of a care model that helps people recover is building and maintaining quality in all of these relationships. These relationships form online much like the way they form in person."
Over time, group members become invested in the success of the other members. "Peer support leads to accountability," says Dr. O'Melia. "For example, let's say you have trouble getting out of bed in the morning, and in the group session you say you're going to start setting your alarm for 7 a.m. Yes, it's important for the therapist to help with that. But it lands differently when your peers ask you about it, because they understand exactly how hard it can be to get out of bed when you just don't want to." 
Eating Recovery and Pathlight At Home therapists have found that having around nine people in a virtual group (including the therapist) is optimal for virtual engagement. "We picked that number because having nine faces on a screen allows the photos to be large enough that people can see each other's expressions," says Dr. O'Melia. To further help patients connect with each other, the program provides experiential activities, such as a cooking class for an eating disorders group, or an on-screen game for a mood and anxiety group.
"Another advantage to virtual therapy is providing people with support in their everyday lives at home," says Dr. O'Melia. "We truly get to see what their healing environment is like."
What Patients Should Know
Patients who may be hesitant about virtual group therapy can be reassured that the treatment team will work closely with the patient's outpatient providers, including their therapist and primary care provider, to ensure continuity of treatment. In addition, virtual therapy lends itself well to the involvement of family members, including those in different locations.
Moreover, the virtual group provides valuable insights that are helpful for individual therapy. "We can think of the group as a microcosm: how you relate there is reflective of how you relate in the world," says Dr. Michel. "For example, is the patient emotionally disengaged in a group because their social anxiety is so high? If so, the therapist can work with the patient on an individual basis to discuss their social anxiety, teach coping techniques and practice social skills in the group setting."
"Outpatient providers as well as patients should understand that virtual IOP can head off worsening outcomes that lead to residential care or partial hospitalization," says Dr. O'Melia. "Virtual IOP can also support a patient after they're discharged from a higher level of care, helping them maintain the skills they learned while they were away."
Most importantly, patients should know that Eating Recovery and Pathlight At Home clinicians have the expertise to ensure that virtual group therapy is meaningful for each member. Says Dr. Michel, "We know how to bring a group together in such a way that everyone has an equal voice, feels safe, and feels connected."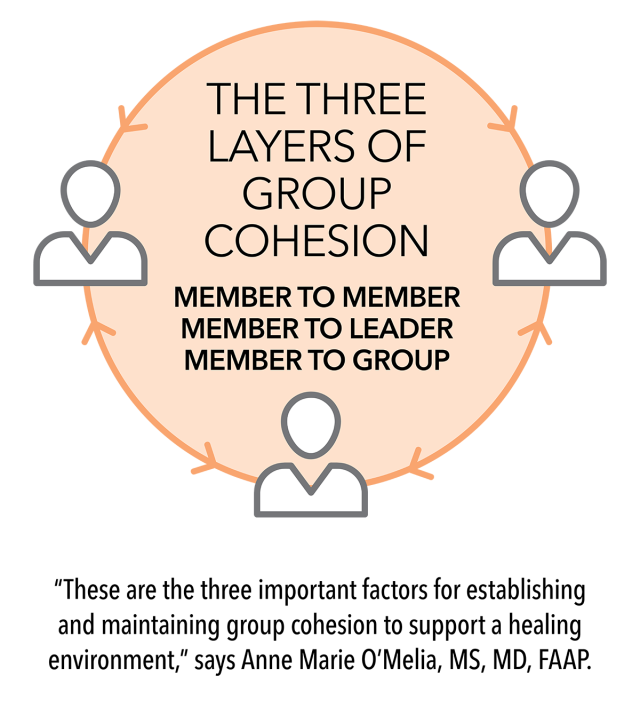 Learn more about Eating Recovery At Home and Pathlight At Home, our virtual intensive outpatient programs for eating disorders and mood and anxiety disorders. Available and accessible across the nation, these programs are covered in-network by most commercial insurance plans.
At Eating Recovery Center and Pathlight Mood & Anxiety Center, we're dedicated to making your experience - and your clients' - with us as streamlined, helpful and accessible as possible by connecting and sharing resources for eating, mood, anxiety and trauma-related conditions.
Have any questions? There are multiple ways to reach us via email, social media channels, newsletters and more.