Trauma Treatment: Evidence-based
Traumatic events are devastating and yet are unfortunately quite common. Experts estimate that about 50 percent of the population will experience a traumatic event in their lifetime. When you consider that 90 percent of patients in public behavioral health care settings have experienced at least one trauma, it is clear that trauma leaves a strong emotional mark.
At Pathlight Mood & Anxiety Center, our patients are recovering every day from post-traumatic stress disorder (PTSD) and trauma-related conditions such as anxiety and depression, which can result following a traumatic event.
With the right treatment, our patients are able to learn the tools and skills they need to recover — in spite of the powerful ways that trauma has impacted their lives.
Choosing a treatment center for trauma
After experiencing a trauma, people can become more distressed by certain emotional or environmental triggers. At Pathlight, one of our major priorities is to create a treatment environment and approach that is trauma-sensitive and takes this reactivity into account. Our physical space, group guidelines, policies and procedures, interactions, and treatment approaches are designed to promote a culture of safety, empowerment, and healing.
Our professional staff and clinicians are well-trained in working with patients who have a trauma history. We are sensitive to the unique needs and experiences of people who have been through a trauma — or multiple traumas.
Should you choose to seek treatment with us at Pathlight, our clinicians will provide you with the most effective, evidence-based treatment modalities and medications that are available to help people recover from trauma and related issues. During treatment, you will learn about trauma and coping with distress following a trauma, including the following:
How trauma impacts the brain

How trauma shapes your experience of the world — your beliefs, thoughts, feelings, and emotions

How to identify triggers and safely and effectively manage your reactions

How to maintain a healthy and more balanced life

How to feel empowered
As you move through treatment, you will be able to more easily identify and connect with your core values. These values are so important in helping you create a more fulfilled and meaningful life. In treatment, you will learn new ways of living — with more flexibility, adaptability, and openness.
Effective therapies for trauma
There are a number of therapeutic interventions found to be most helpful for people recovering after a trauma. At Pathlight, our providers utilize the following evidence-based treatments:
Written Exposure Therapy

Somatic Experiencing Informed

Narrative Therapy (telling one's story can be an exposure)

Prolonged Exposure
In addition, our on-site psychiatrists provide regular medication management for all the patients in our Residential and Partial Hospitalization Programs (PHP).
During your time at Pathlight, a primary goal is learning how to regulate your emotions safely and effectively. To support our patients in this process, our therapists will work with you to address wellness of your mind, body and spirit with experiential therapies (movement, art, and yoga therapy).
We customize treatment to each individual and do our best to ensure each patient receives the specialized therapy that they need. Your individual therapist will work closely with you each week to make sure you are making progress in treatment.
Exposure therapy for trauma
Trauma survivors are often upset by memories, flashbacks, and nightmares that stem from their trauma — and they try to avoid anything reminiscent of the traumatic event. When working with individuals affected by traumatic stress, "exposure work" is often a core feature of therapy. People can recover from a trauma by exposing themselves to remembering, re-envisioning, re-imagining, and re-telling the story of the traumatic event in a safe space.
The thought of doing exposure work may sound incredibly stressful but this work is done in a carefully supported and nurturing way. Patients work with their trusted individual therapist to plan the exposure work in a way that feels manageable. The treatment plan is continually revised and re-examined each week.
Before exposure work begins, we offer patients mindfulness and coping skills training to help patients deal with difficult thoughts, physical reactions, and emotions that may arise.
And, since treatment is individualized at Pathlight, patients work with an individual therapist to decide what type of exposure work is the best fit. For instance, some patients may initially find that they prefer to write about their trauma versus talking about the trauma.
Family involvement in trauma treatment
Family support and involvement is key to helping people recover after a trauma. We encourage family members to support their loved one's recovery by being involved in some of our family-oriented therapies and programs, including:
Family Therapy

Family Days

Multi-family education groups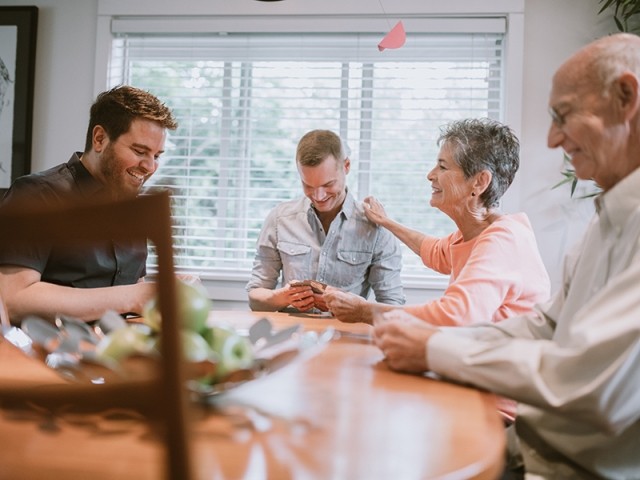 Levels of Care at Pathlight
How do you know if Pathlight is right for you? You are eligible to seek trauma treatment at Pathlight if you need more intensive support than is offered in an individual, outpatient setting. We offer several levels of care to meet your needs.
You are able to move up and down through the levels of care based on your needs during your treatment, which makes it more likely that you can receive start to finish care with us rather than moving between programs when your needs change. This vertically-integrated treatment design is one of the hallmarks of the excellent care we provide for our patients, and allows you to work with the same treatment team as you transition to different levels of care.
During intake, our compassionate Clinical Assessment team will work with you to determine the ideal level of care to best meet your needs.
Following treatment, we will continue to offer ongoing support. Alumni events help to keep you focused on trauma recovery and connected to the larger community of people pursuing similar goals.
Our guided path to wellness, from admission through treatment and discharge provides you all the tools and support you need to navigate this journey.
Types of Treatment
Residential Care
The highest level of care; you live on site and attend therapy groups while being supported through tasks to improve functioning
Partial Hospitalization Program
Attend Pathlight groups 7 days per week
Intensive Outpatient Program
Treatment takes place 3 to 5 days per week
Child and Adolescent Programming
Residential, PHP, and IOP for patients ages 10-17
When will you recover from a trauma?
We want you to feel empowered to make the best choice for you. As you compare treatment centers, we encourage you to look at patient outcomes if they are made available.
For our patients, we find that most of the symptom reduction — and relief — occurs in the first 11 days. As patients do the work in therapy and learn new skills, remaining levels of distress continue to drop.
If you're like most of our patients, you will soon notice a significant increase in the following areas:
Feeling more accomplished

Noticing an increased quality of your relationships

Finding more meaning in your life

Feeling more positive emotions
Our patients experience statistically significant decreases in these areas following treatment:
Depression

Anxiety

Dysfunctional attitudes

OCD

Trauma
Our patients also report high levels of satisfaction regarding their care here at Pathlight.
84% of PHP and 89% of IOP Patients report being satisfied with their treatment

86% of PHP and 90% of IOP Patients say that they would refer family or a friend
We want to assure you that no matter how hard things may seem right now, you are never alone in your struggle. No matter how complex your illness is, or how many professionals you have seen, we know you will be able to gain a better understanding of your illness and learn new skills to help you manage your thoughts, emotions, and physical reactions. We are here for you.
Please call us at (877) 711-1878 for a free, confidential consultation with a Master's-level clinician or to learn more about treatment options for trauma.
Source: Substance Use and Mental Health Services Administration: Trauma